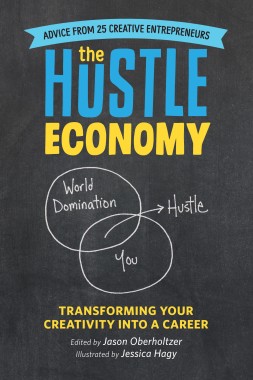 Happy Dance of Publication!
I get to illustrate a lot of really interesting projects (tweet me if you need my pen on your papers @jessicahagy), but this was an extra treat to diagram.
This book has loads of practical, honest, usable advice for all creative workers (which is, you know, practically everyone anymore) by people who I admire who do work I respect.
Seriously. These brilliant folks all wrote essays for the book:
Nick Douglas — comedy writer
Jason Oberholtzer — editor, producer, consultant and blogger at I Love Charts
Ben Grelle (The Frogman) — internet comedian, writer, photographer and graphic artist
Adrian Sanders — cofounder of Beacon
Farah Khalid — film editor
Mike Rugnetta — producer, performer
Emma Koenig — television writer and humorist
Asha Dornfest — founder of Parent Hacks
Kelsey Hanson — founder of Vocal Design
Mónica Guzman — columnist and Nieman Fellow
Thomas Leveritt — director, author and painter
Casey Bowers — writer
Josephine Decker — director, film editor and performance artist
Donna Salgado — dance artist
Alex Pearlman — recovering entrepreneur and digital news girl
Dante Shepherd — professor and web comic
Brad O'Farrell — game maker
Jess Kimball Leslie — trendspotter
Meredith Haggerty — writer, editor, the hero we deserve
Alex Larsen (aka Kid Twist) — battle rapper and game designer
Nancy Zastudil —gallerist, curator and arts writer
Lee LeFever — cofounder and creative director of Common Craft
Jess Wysaski — blogger and humorist
Zach Weinersmith — web comic
You can get a copy anywhere books are sold in the real world, and online through our publisher (the page has links to all your favorite booksellers).
Now back to my not-at-all graceful happy dancing.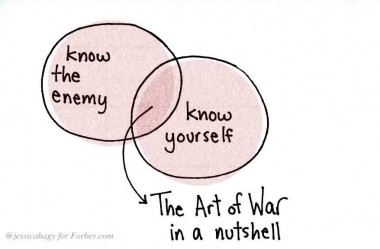 Over at Forbes, I've been posting my take on Sun Tzu's The Art of War. The book was written in short verses, and each verse now has a corresponding diagram. In total, there are almost 300 illustrations.
It's a project that was a lot of fun to draw and noodle on, and one I'm rather proud of. Have a look:
Sun Tzu's The Art of War, Illustrated (Chapter 1: Laying Plans) 
Sun Tzu's The Art of War, Illustrated (Chapter 2: Waging War) ‪
Sun Tzu's The Art of War, Illustrated (Chapter 3: Attack by Stratagem) 
Sun Tzu's The Art of War, Illustrated (Chapter 4: Tactical Dispositions) 
Sun Tzu's The Art of War, Illustrated (Chapter 5: Energy) ‪
Sun Tzu's The Art Of War, Illustrated (Chapter 6: Weak Points And Strong) 
Sun Tzu's The Art of War, Illustrated (Chapter 7: Maneuvering) ‪
Sun Tzu's The Art of War, Illustrated (Chapter 8: Variation in Tactics) 
Sun Tzu's The Art of War, Illustrated (Chapter 9: The Army on the March) ‪
Sun Tzu's The Art of War, Illustrated (Chapter 10: Terrain) 
Sun Tzu's The Art of War, Illustrated (Chapter 11: The Nine Situations, Part 1) 
Sun Tzu's The Art of War, Illustrated (Chapter 11: The Nine Situations, Part 2)
Sun Tzu's The Art of War, Illustrated (Chapter 12: Attack by Fire)  
Sun Tzu's The Art of War, Illustrated (Chapter 13: The Use of Spies)