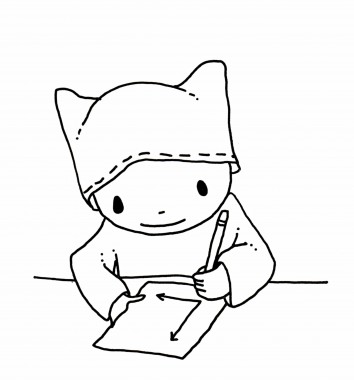 A lot of you lovely folks are my friends on twitter, so you may have seen some of these links floating along in your  stream, but here's a bullet-pointy list of what I'm busy doing.
For the past 15 years, I've been a professional writer, illustrator, and concept director. I develop theories, campaigns, books, and creative media that reimagine formats and provoke thought. Yes, this often involves an insane number of charts, graphs, and illustrated presentations.
Started in August of 2006, Indexed has been noted around the web—much to my continued shock. Thank you to everyone who has shared the link and joined the party. Originally, I described this site this way: "This is a little project that allows me to make fun of some things and sense of others without resorting to doing actual math."
For more on me and what kind of work I do, there's this.
Clients I've partnered with:
AOL
BBC Magazine Online
BBC Capital
Bloomberg BusinessWeek
Esquire, Russia
NEON Magazine
Readers Digest, Canada & US
Redbook Magazine
Headline News
The New York Times
New York Magazine
Random House, Berlin
Taschen Publishing
Chronicle Books
Penguin's Viking Studio
O'Reilly Publishing
McClatchy News Service
Gestalten
Forbes
MOO, London
Salesforce.com
Plenty Magazine
GOOD Magazine
Golf Digest
JibJab.com
SmithsonianMag.com
Pearson Education
CurrentTV
Guinness Atkinson Funds
The Seattle Times
Victoria's Secret
Starbucks
JPMorgan Chase
Microsoft
Weight Watchers
Deloitte
SuccessFactors
U.S. News & World Report
CareerShifters.org
Places I've spoken:
Eyeo Festival, 2014 (Minneapolis, MN)
WebStock, 2104 (Wellington, NZ)
SXSW 2012, 2013 (Austin, TX)
L2 Innovation Summit, 2012 (NYC)
HUDDLE 2011 (London, UK)
The Mayo Clinic's Transform Conference 2010 (Rochester, MN)
Pilot Books Micro Residency, 2010 (Seattle, WA)
PCBC 2010 Conference (San Francisco, CA)
Ward Johnson Winery Gallery, 2010 (Seattle, WA)
InfoCamp, October, 2009, (Seattle WA)
FOO Camp, August, 2009 (Sebastapol, CA)
Ignite Seattle, August 2009 (Seattle, WA)
VizThink, February 2009 (San Jose, CA)
Design Commission Gallery, October 2009 (Seattle, WA)
He Said/She Said Artist Series, March 2008 (Chicago, IL)
POPTech 2007, (Camden, ME)
Books I've helped create:
Author:
The Art of War, Visualized, Workman 2015 (nonfiction)
Here in Line for Security, Ribbon Pig, 2014 (poetry)
How to Be Interesting, Workman, 2013 (nonfiction)
Indexed, Viking Studio/Penguin 2008
(nonfiction)
Schnittmengen, Random House (Berlin), 2010 (nonfiction)
Rotisserie Chicken or the Founding Fathers, Chronicle Books, 2009 (nonfiction)
 Contributor:
Work for Money, Design for Love, New Riders Press, 2013
Breakthrough! Overcome Creative Block & Spark Your Imagination, Cornell University Press, 2013
Data Points, Visualization that Means Something, Wiley 2013
Liberate Leadership, Green Olive Press, 2012
Real Texts: Reading and Writing Across the Disciplines 2nd Edition, Longman (a Pearson Imprint) 2012
End Malaria, Domino 2011
Information Graphics, Taschen Publishing, 2012
I Love Charts, Sourcebooks, 2012
You Only Need to Get Rich Once, Greentree Press, 2012
What Matters Now, Domino, 2009
Age of Conversation (Editions 1, 2 & 3), 2007, 2008, 2009
Ecotone, Vol. 4 #1 2008
Data Flow, Gestalten, 2009
Beautiful Visualization: Visualization Through the Eyes of Experts, O'Reilly, 2010
Linchpin, Are Your Indispensable?, Portfolio, 2010
The World is a Text, Vol. 4, Pearson Education, 2011
Awards people have given my work:
Webby Award, Personal Site, 2010
Associate Member, International Academy of Digital Art and Sciences, 2010
Top Women in Tech, Puget Sound Business Journal, 2009
Time Magazine's Best Blogs of 2008
The Morning News, "Our Favorite Reason for the Internet to Exist," 2008
PC Magazine's Favorite Blogs of 2007
Webby Award Nominee, Blog, Cultural/Personal 2007, 2008 & 2009
Guardian UK, Best of the Internet, February 2007
Google Blog of Note, September 2006
ADDY Awards, 2003, 2004
Columbus Society for Creative Arts, Awards of Excellence, 2002, 2003
Silver Clio, Digital Content, 2001
Contact:
Email me if you'd like to collaborate, advertise, vent, have me speak or babble at your next event, or to ask a silly question. I try to read everything, but spam does eat a lot of notes.
Yes, email snobs, I know it's a Yahoo! address. I've had it for almost 20 years and it still works. Sort of.